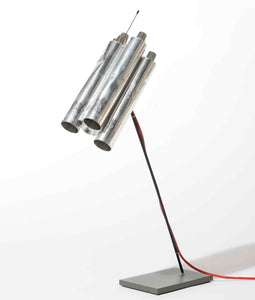 This model 'Tu-Be Two' lamp is no longer in production and was originally produced in Germany during the 1980s. Composed of aluminium and steel tubes, the ball joint between the head and stem makes it possible to turn and tilt the lamp in all directions. The angle of the tubes is adjustable.
Attribution
Designer: Ingo Maurer
Design Period: 1980 to 1989
Country of Manufacture: Germany
Character
Condition: Good
Restoration and Damage Details: Some marks and roughness to some of the tubes.
Materials: Aluminum, Metal
Color: Black, red, silver
Height: 60 cm / 24 inch
-Fixed 200 € shipping cost on all larger item orders of 1500 € or more to customers in all major cities in Europe.
-Free Stockholm/Uppsala Delivery
-World wide shipping
-Secure Payment with PayPal or Stripe
-For additional information/questions contact: info@garageonline.se