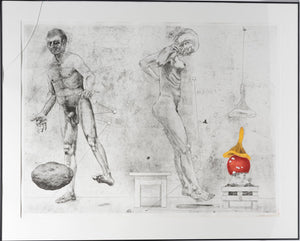 PG Thelander, lithographic print, numbered 8/105, framed behind glass. The print has some miss coloration outside the picture so it does not disturb the motif at all. Otherwise in good condition.
Attribution
Design Period: 1980 to 1989
Character
Condition: Very good
Restoration and Damage Details: This lamp contains minor wear with a few scratches.
Materials: Lithograph paper
Color: White, Black Yellow and Red
Width: 86 cm
Height: 61 cm
-Fixed 200 € shipping cost on all larger item orders of 1500 € or more to customers in all major cities in Europe.
-Free Stockholm/Uppsala Delivery
-World wide shipping
-Secure Payment with PayPal or Stripe
-For additional information/questions contact: info@garageonline.se